Bettina Hachmann
Through the night
Works on canvas and paper
Ausstellungsdauer 08. May 2015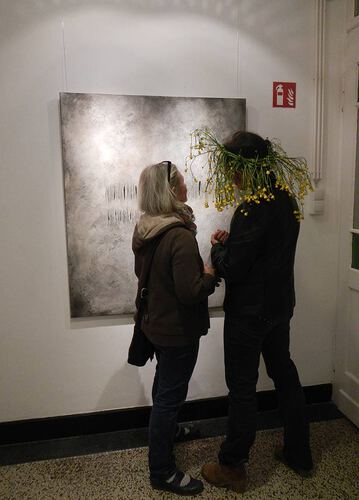 Now it was that time again. 10 Bad Godesberg galleries opened their doors from 6pm to midnight. Our gallery and gilding workshop also remained open that evening.

Visitors were able to view paper and canvas works by Bettina Hachmann in the gallery rooms. Bettina Hachmann, who was born in Geldern in 1967, says about her painting: "I always like to work on my pictures with such intensity. I apply and remove paint in many layers, scratch and even injure the canvas in places, only to bring calm back into the picture during further processing. Paintings as a mirror of lived life, not pleasing, but multi-layered. Multi-layered like life itself.

The artist herself guided through the exhibition and enthusiastically told the numerous guests about her artistic work.

In our gilding workshop, Mrs Geißler, our master gilder, showed all the important steps of a frame gilding. Curious and interested visitors tried out how it felt, tasted and smelled when practising a medieval craft.